Gutter Cleaning Pinehurst NC

Professional Gutter Cleaning Services in Pinehurst, NC
Trust the Experts at Carolina Rain Gutters for Your Gutter Cleaning Needs
Why You Need Gutter Cleaning

Prevent Water Damage and Costly Repairs
Clogged gutters can cause water to overflow, damaging your roof, walls, and foundation. Regular gutter cleaning can prevent costly repairs and keep your home safe from water damage.
Protect Your Home's Foundation
Properly functioning gutters direct rainwater away from your home's foundation, preventing water from seeping into your basement or crawlspace. Gutter cleaning ensures that your gutters are free from blockages and can do their job effectively.
Improve Your Home's Curb Appeal
Clean gutters can enhance the appearance of your home by preventing unsightly water stains on your siding and preventing gutter overflow that can damage your landscaping.
Why Work with Carolina Rain Gutters

Carolina Rain Gutters has 14 years of experience in the industry, providing gutter cleaning services to homeowners in Pinehurst, NC. With their expertise, they can handle all types of gutters and downspouts, ensuring that your gutter system is clean and functional.
Reliable and Professional Service
Carolina Rain Gutters is committed to providing reliable and professional service to its clients. Their team of experts is trained to handle all types of gutter cleaning jobs efficiently and precisely, providing you with the best possible service.
Tailored Solutions for Your Home
Our team understands that every home is different, and that's why we provide customized solutions based on your specific needs. Our experts will evaluate the condition of your gutters and provide you with tailored solutions to ensure that your gutter system is clean and functional.
High-Quality Equipment and Methods
Carolina Rain Gutters uses high-quality equipment and methods to ensure your gutter system is cleaned thoroughly and efficiently. They use the latest technology to remove all debris from your gutters, providing you with a cleaner and safer home.
Commitment to customer satisfaction

We prioritize customer satisfaction above all else. We understand that a happy customer is a returning customer, so we strive to provide the best possible service. Our team is committed to going above and beyond to ensure our clients are completely satisfied with our work. We take the time to listen to your concerns, answer your questions, and promptly address any issues. You can trust us to provide personalized attention and a high level of care to every customer.

Inspection and Assessment
The first step in our gutter cleaning process is to perform a thorough inspection and assessment of your gutters and downspouts. Our experienced professionals will evaluate the condition of your gutters and identify any potential problems, such as clogs or damage.
We use advanced tools and techniques to ensure that we don't miss any issues that could impact the performance of your gutters. Our team will assess the overall condition of your gutter system and provide you with a detailed report of our findings.
 meets your specific needs and helps keep your home safe and protected from water damage.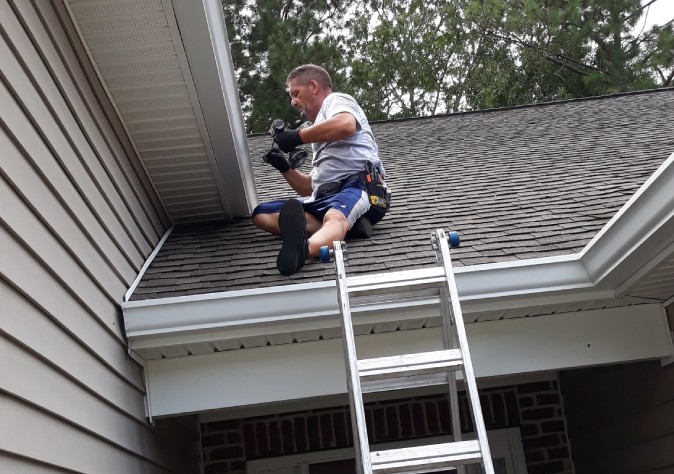 Thorough Cleaning of Gutters and Downspouts
Once we have assessed the cleaning needs of your gutters and downspouts, our experienced team uses the latest equipment and methods to thoroughly clean them. We remove all debris and blockages, ensuring that water can flow freely through the gutters and downspouts. We also flush out the gutters and downspouts with water to ensure they are completely clean. Our team takes care to protect your home and landscaping during the cleaning process, and we leave your property clean and tidy when the job is done.
Repairs and Maintenance as Needed
Once we have completed the inspection and cleaning, we will perform any necessary repairs or maintenance on your gutters and downspouts. This may include replacing damaged or worn components, sealing leaks, or adjusting the pitch of the gutters for optimal drainage. Our team has the expertise and experience to identify and address any issues with your gutter system, ensuring it functions at its best. Regular maintenance and repairs can extend the lifespan of your gutters and prevent costly damage to your home's exterior. Trust Carolina Rain Gutters to keep your gutter system in top condition.