Gutter Leaf Guard In Shallotte NC

Protect Your Home with Carolina Rain Gutters: Premium Quality Gutter Leaf Guards In Shallotte NC
Efficient and Professional Gutter Services in Southport: The Carolina Rain Gutters Difference
We are the leading gutter leaf guard solutions provider in Shallotte, NC. With our exceptional products and expert installation services, we are here to safeguard your home from the perils of water damage while enhancing its curb appeal. Trust us to protect your investment and keep your gutters free from debris all year round.
Why Choose Carolina Rain Gutters?

Superior Gutter Protection: At Carolina Rain Gutters, we offer top-of-the-line gutter leaf guards in Shallotte NC, designed to effectively block leaves, twigs, and other debris from entering your gutters. We install the Gutterglove Pro®, Micro Mesh Pro, or LeafBlaster Pro® to protect your gutters. Our innovative solutions ensure rainwater flows freely while keeping your gutters clear and clog-free.
Exceptional Quality: We understand the importance of durability and longevity for gutter leaf guards in Shallotte NC. That's why we only use premium materials built to withstand the harshest weather conditions. Our products are engineered to last, providing peace of mind and reliable protection for years.
Professional Installation: Our experienced technicians are well-equipped to handle the installation process precisely and efficiently. We take pride in our workmanship and ensure that every leaf guard is installed securely and seamlessly. Sit back, relax, and let us take care of all your gutter protection needs.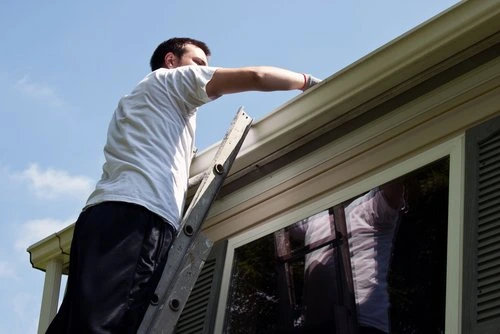 Discover the Carolina Rain Gutters Difference
Our Impact: A Commitment to Environmental Responsibility

Carolina Rain Gutters is dedicated to protecting your home and positively impacting the environment. We proudly use eco-friendly materials and sustainable practices throughout our manufacturing and installation processes. By choosing our gutter leaf guard in Shallotte NC, you contribute to preserving nature while ensuring your gutters' longevity.
Contact Us for a Free Estimate

Ready to take the first step toward superior gutter protection in Shallotte, NC? Contact us today to schedule a free consultation with our team. We will assess your needs, answer all your questions, and provide you with a detailed estimate for our services. Invest in the longevity of your gutters and the protection of your home with Carolina Rain Gutters.
Make Carolina Rain Gutters Your Trusted Partner in Gutter Leaf Guard Shallotte NC Solutions

When it comes to quality, reliability, and exceptional service, Carolina Rain Gutters stands out as the premier choice for gutter leaf guards in Shallotte NC. We are committed to exceeding your expectations and ensuring your complete satisfaction. Say goodbye to clogged gutters and hello to hassle-free maintenance with our top-notch solutions. Protect your home and enhance its beauty with Carolina Rain Gutters today.
Remember, Carolina Rain Gutters is the name to trust for the best gutter leaf guard in Shallotte NC. Contact us now to schedule your free consultation, and let us take care of your gutter protection needs.